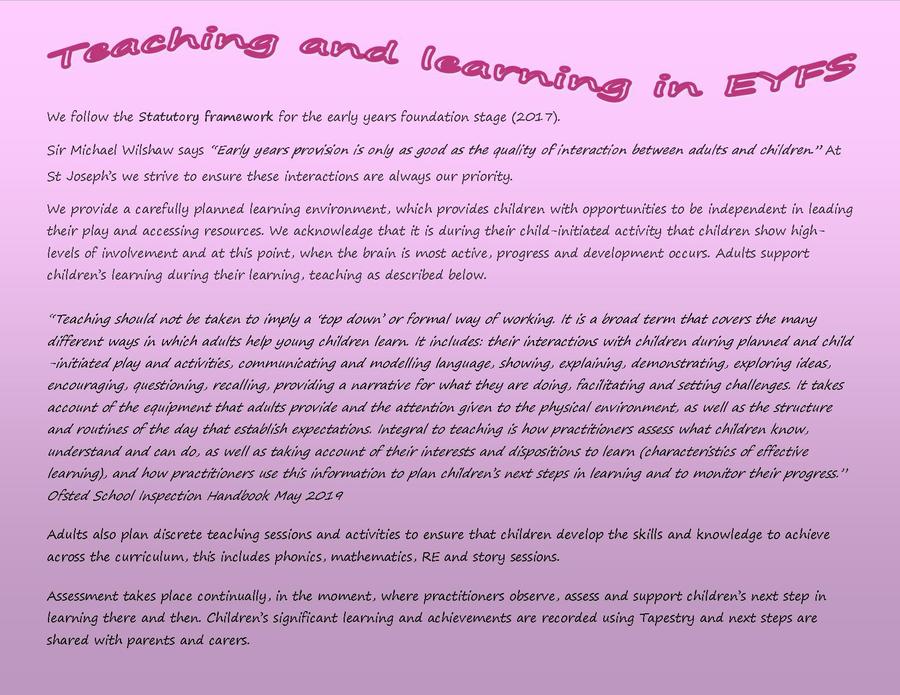 This is what we are learning this half term
This is what we are learning this year.
If you want any more information, please speak to Mrs Morrell.
Learning possibilities when we play in different areas in our classroom.
Here are some useful documents published by the Department for Education -
Our families have joined us in school for Inspire Workshops, where they can work alongside their children in Foundation Class. Our recent theme was space, we have lots more exciting days planned for this year.
Characteristics of Effective Learning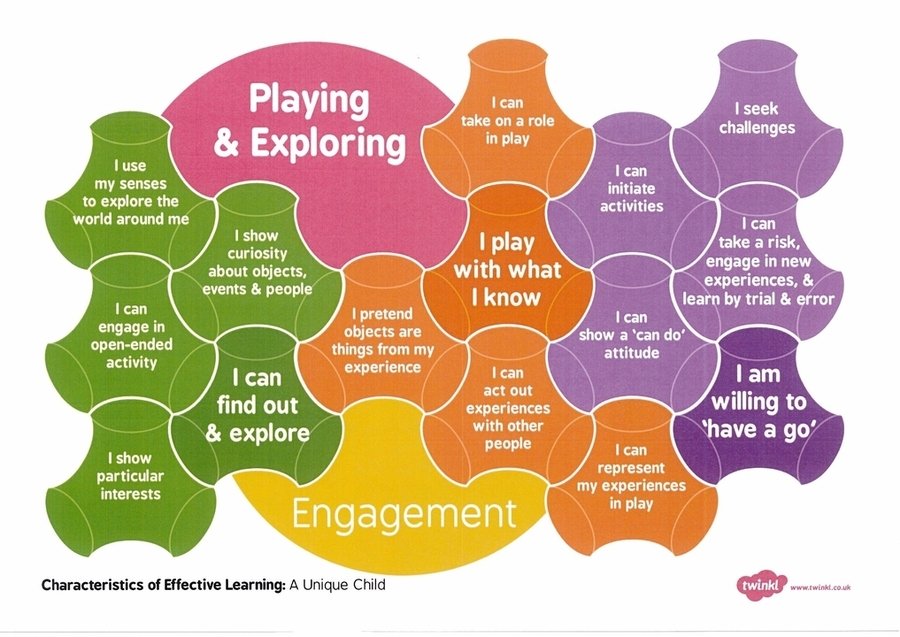 Reading in Foundation Class
We introduce children to exciting and inspiring stories, which allow opportunities for children to learn about repeated patterns in stories, characters, story setting, events and much more.
We give the children opportunities to join in with repeated parts of stories, act them out, re-tell them and explore different parts of them. Children have the opportunity to explore the stories in their independent learning with a range of story based resources in both inside and outside provision areas, such as props to act out stories and story areas.
Children are taught reading skills through guided (small group) reading sessions. Guided reading sessions take place on a daily basis and as part of this provision children have opportunities to: develop their love of books in our book corner; consolidate their phonic skills using ipad apps and have direct teacher led reading session.
Children have access to class library books which provide a wide range of lovely books which they can take home to enjoy on a weekly basis.
The reading scheme that we use at school for our fiction books is Oxford Reading Tree, children take home phonic based Floppy Phonic books initially. We also have a range of non-fiction books which children take home, which complement the range of fiction books.
We enjoy being part of the library book loan scheme, which allow us to enhance our books available in class with a range of good quality fiction and non-fiction books, which are changed termly.
Phonics in Foundation Class
We teach daily phonics sessions for 20 minutes in Foundation Class. We base our phonics teaching on Letters and Sounds, this is a synthetic phonics program where children are taught about the relationship between a letter (grapheme) and the sounds of the English language (phoneme). Children work through phase 2, 3 and 4 whilst in Foundation Class.
Alongside the daily phonics sessions children have opportunities to consolidate their phonics learning through activities and resources set up throughout both inside and outside provision areas.
Mathematical Development in Foundation Class
Maths learning in Foundation Class is based on practical, play based activities which allow children to develop their mathematical knowledge. Children are taught through a range of whole class and small group learning activities, along with carefully planned provision to enable children opportunities to explore and consolidate their learning within provision areas.
We use Numicon as a resource to support mathematical development, this is a multi-sensory approach which builds on proven pedagogy that raises achievement on all ability levels.